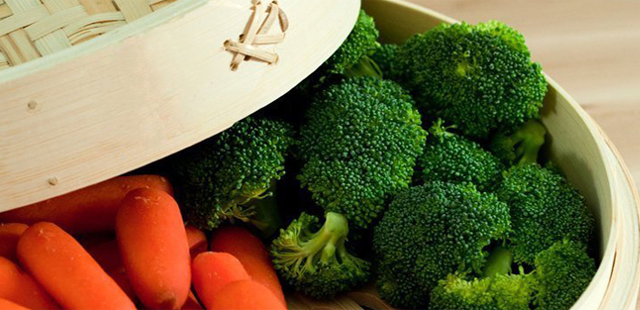 So why do we love a bamboo steamer? Because it is a quick, healthy, no-mess way to create a nutritious and delicious dinner dish in minutes.
The bamboo steamer might just be one of the greatest culinary inventions of all time, and it's extremely low tech. A woven bamboo basket and a pot of boiling water; it doesn't get any more basic than that. Sure, there are other steamers out there, but there is something about the way food tastes and looks when steamed in bamboo. The bamboo steamer is multi-layered which allows you to cook different types of foods at one time. Each layer has an open-weave bottom which permits steam to pass through to cook the food. The water does not wick off the lid of the steamer and drip back onto the food- it's slowly released through the woven top.
Using Your Bamboo Steamer For The First Time
Before use, wipe over steamer with hot water but do not submerge the steamer in the water. Whilst wet, place your steamer over boiling water for thirty minutes. As bamboo is porous (allowing air and water to pass through it), the steam will help to take away any impurities such as dirt etc.
Ready to Cook
Be sure to cut vegetables based on how long they take to cook (bigger pieces of broccoli and thin slices of things like sweet potatoes)
Layer your steamer with leafy greens like cabbage or spinach on the bottom and nestle bigger pieces on top
Most people use woks to sit their steamer in, but placing it the steamer over a pot also does the trick and is just as effective. You only need about 2-4cm of water for it to reach the bottom rim of the steamer. Keep an eye on the water level as you may need to add more boiling water to keep it at rim level
Do not overcook the vegetables (or fish) as they will change colour and get mushy fast
Care Of Your Bamboo Steamer
Bamboo steamers are not dishwasher safe. However, cleaning them is a breeze. A little vinegar in hot water is a natural and safe way to disinfect and deodorize your bamboo steamer. Simply dip a cloth in the solution, squeeze out lightly and give the steamer a good wipe- And there you go- all ready for the next use. Never soak your bamboo steamer in water. Let your bamboo steamer dry completely before putting it away.
Ok- Time to get steaming!
You may be interested in…