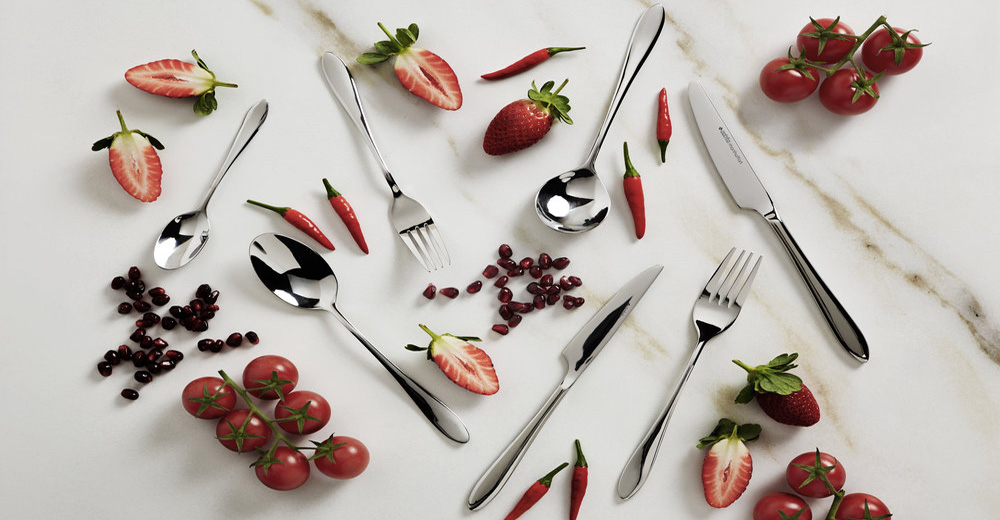 Ok – So we know it's 'just cutlery', but you use these little tools 365 days a year, so there is no reason every dining experience shouldn't be an impressive experience! Eetrite have made it their business to bring you timeless flatware since 1955, and as self-professed experts in the field, they know just what you need to do to keep your cutlery looking good for years to come.
The classic Disney movie Beauty And The Beast sums it up perfectly with its enchanted dinnerware and cutlery, inviting belle to 'be our guest'. After all, there really is something magical about beautiful cutlery, and the ease in which it can elevate a meal from mundane to splendid, whilst transforming a table setting into a culinary cabaret!
Just as Mrs Potts (a delightful teapot) instructs Belle on how to clean and store the cutlery after her dinners with the beast, we would like to offer a few tips of our own, with our cutlery care guide. Even though Eetrite's range of cutlery can't sing and dance, with the right care, each piece of flatware will be treasured by generations to come.
Taking Care of your stainless steel cutlery
Stainless steel is a great option for a cutlery set when it comes to affordability and ease of care. we can't all live in a castle!
Rinse your stainless steel cutlery right after use. this will prevent acidic foods training the tines or blades
Dishwashers can be used, but make sure you use a liquid detergent instead of a powder
Avoid spotting of detergent residue or water on your cutlery by drying it as soon as it is washed and before storage. Hand-drying with a tea towel is your best option
Never wash cutlery with hard detergents like bleach or soap
Avoid rubbing your cutlery with abrasive cloths
Give the final finishing touch with a polishing.
Taking care of your silver plated cutlery
Dishwashers can leave marks, scratches, and the silver will rapidly lose its shine and eventually wear off. They are not recommended for silver plated utensils. Instead, hand-wash your silver-plated cutlery in warm soapy water right after use, and avoid hard detergents or soap
Always apply the cleaner with a soft cloth or sponge- either of which should be thoroughly and freshly washed to eliminate any abrasive dust particles which could cause scratching
Silver garners a lovely patina as it ages and is remarkably robust. The more you use it the less care it requires- just give it a good polish every three months
Caring for your cutlery is a tale as old as time and we leave you with the magical words of Lumiére, the casanova of all candelabras, as he seats Belle at the dining room table with beautifully preserved cutlery: "Ma cherie Mademoiselle, it is with deepest pride and greatest pleasure that we welcome you tonight! And now, we invite you to relax- let us pull up a chair as the dining room proudly presents your dinner!"
Whether you are looking for treasured silverware for special occasions or a good everyday cutlery set, Eetrite has a set for every dining occasion, and this cutlery care guide will ensure your utensils have a happily ever after.