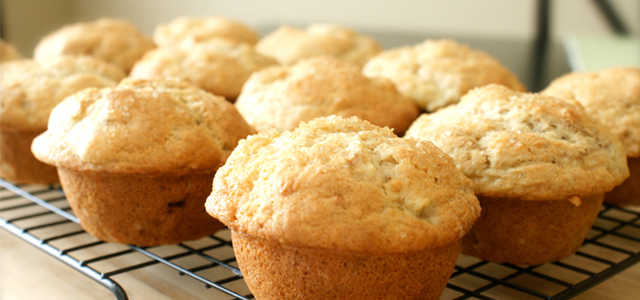 Get Your Timing Right
Most muffin recipes use a 12 cup muffin pan, each cup having a capacity of about ⅓ cup. This has become a standard size for the new, non-stick muffin pans and most aluminium pans on the market. If your pan has larger or smaller cups, adjust the baking time by about five minutes more for the larger muffins, five minutes less for the smaller ones. If muffins in the small cups get too brown, reduce the oven temperature to 180°C
Slow and Steady Does It
Don't be scared to mix your batter well! Despite common warnings in muffin recipes to not overmix your batter and to only fill your muffin cups no more than to the halfway mark, these are fallacies! Ignore all this and simply use your common sense. Don't be afraid to stir the ingredients together until they're well mixed. Just remember that when using any electric mixer like the Tefal Prep'line Hand 'n Stand Mixer, to beat your batter on slow mode to avoid producing hockey pucks. And fill the cups as much as you want to. The idea is to bake some muffins, not worry about what fraction of space the batter should occupy.
Light 'n Fluffy vs. Moist
Depending on what ingredients you're using, the batter will range from runny (like thin cake batter) to very thick (like drop-cookie dough). As a general rule, the thinner the batter, the lighter the muffins will be when baked. But don't be afraid to bake thick, gloppy batter. It can yield moist muffins with extra keeping power.
Getting the Best from Buttermilk
Buttermilk gives muffins a special moistness and flavour. You can buy it fresh in most supermarkets, or look for dry, powdered buttermilk, which will keep for weeks and is the next best thing. Add the powder to your dry ingredients, and add the amount of water needed to the wet ingredients. (Note: Whenever you add buttermilk to a recipe, add ½ teaspoon of baking powder per cup of buttermilk
The Prepared Pantry
Keep your pantry stocked with imaginative additions for muffins: raisins, nuts, dried cranberries, dried blueberries, canned pumpkin or squash, applesauce, and pineapple tidbits. You can also add dry or cooked breakfast cereal, wheat germ, and granola to the batter.
Greased Pans vs. Baking Cups
Grease muffin pans well before adding the batter. Greased pans are preferable to paper baking cups because sometimes baking cups cause the bottoms of the muffins to get soggy, or the muffins will stick to them.
Avoid the Scorch
If you end up with too little batter in your batch for the number of cups in your pan, put a little water in the empties to keep the greased surfaces from scorching in the oven.
The Finishing Touch
For a special effect, before baking muffins, sprinkle them with cinnamon sugar or a little vanilla sugar- If they were destined to be delicious, this little tip will really top it off!
Down to the Last Crumb
To jazz up leftover muffins, split them in half, butter each half, and warm them in the oven for a couple of minutes- You'll be so glad you did! Be careful reheating them in a microwave- they can quickly get soggy.
Choc-Chip Banana Muffins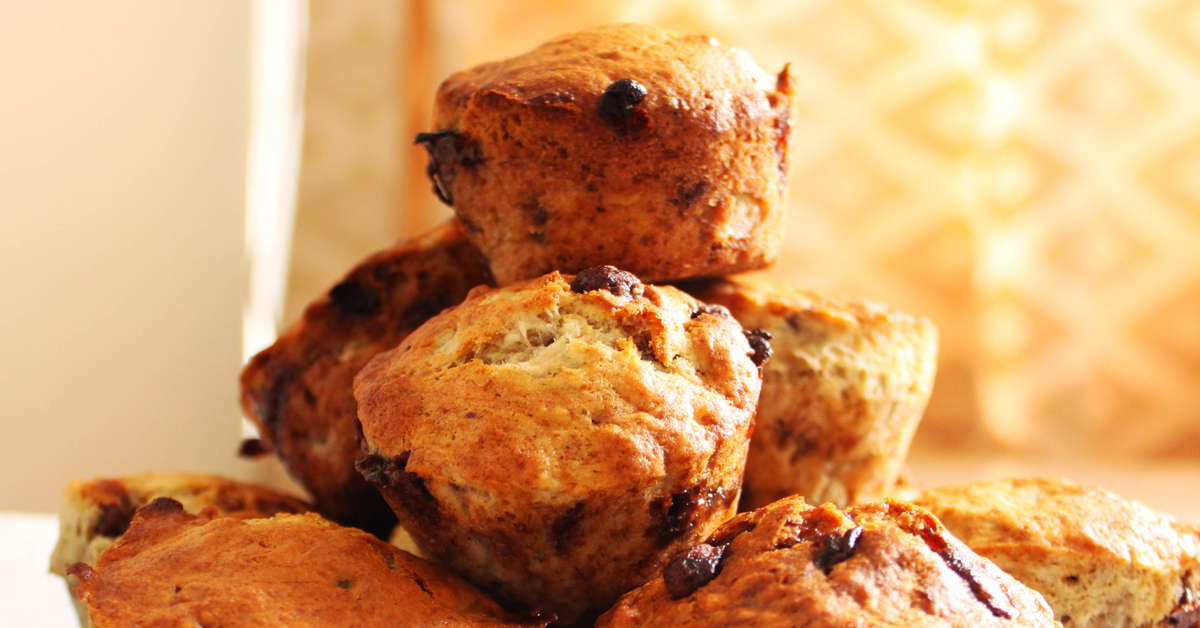 Ingredients:
1 tablespoon lemon juice
2 tablespoons milk
2 ¼ cups flour
2 teaspoons baking powder
½ teaspoon salt
½ teaspoon cinnamon
½ cup butter, softened
1 cup sugar
2 eggs
1 teaspoon vanilla
3 large bananas, mashed
1 cup chopped chocolate chips
Preparation
PREP TIME: 10 Minutes
COOK TIME: 25 Hour
TOTAL TIME: 35 Minutes
Instructions
Preheat oven to 180°C
Grease a 12-cup muffin pan
In a small bowl, stir together milk and lemon juice; set aside
In a medium bowl, mix flour, baking powder, salt and cinnamon
Cream together butter, sugar, eggs and vanilla
Add dry ingredients to creamed mixture and stir to combine
Add milk/lemon juice to mashed bananas, then fold banana mixture into batter. Stir in chocolate chips
Fill muffin cups 3/4 full and bake for about 20 minutes or until toothpick inserted in centre comes out clean
Allow to cool and remove gently from pan
You may be interested in…