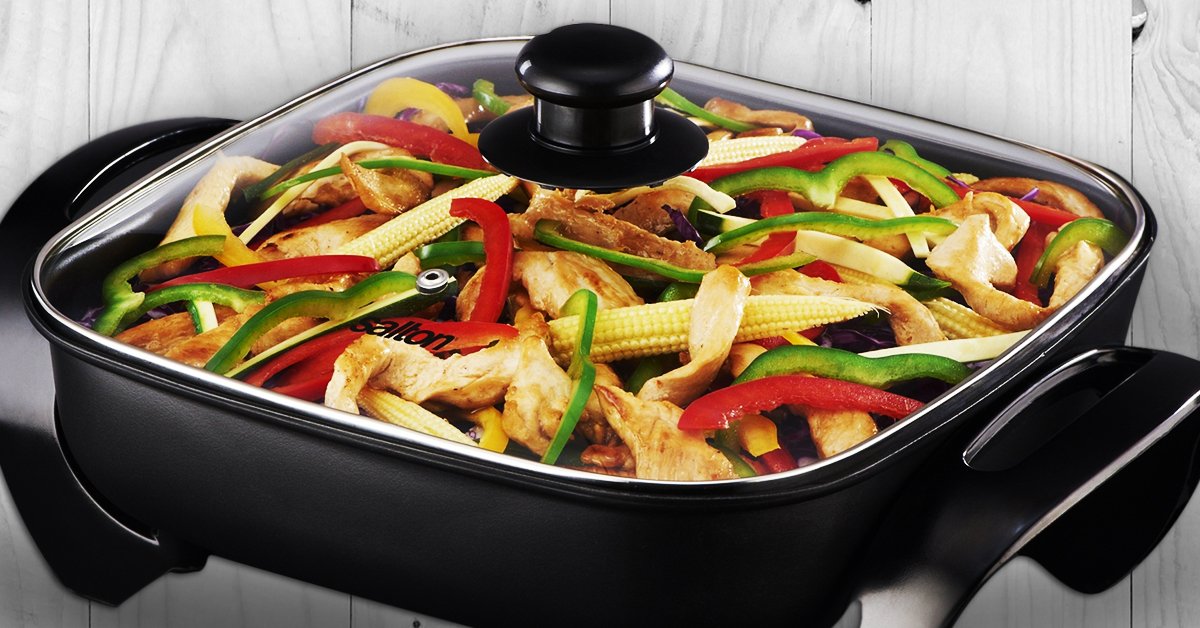 It's called the electric "frying" pan, and so most of us mistakenly think that an electric frying pan is only used for frying foods. Nothing could be further from the truth- These versatile pans can be used for baking, stewing, roasting and braising. They come in a range of sizes and shapes, which makes finding the perfect pan for your family a simple task. There're really so many cooking techniques you can use:
Fry foods such as eggs, pancakes or hamburgers in the same way you would use a skillet on the stove top. Set the temperature control at a medium heat. On some models, the settings may be low, medium and high, while other models have a degree Celcius temperature setting. Medium heat on these models would be around 180°C.
Roast or braise meats in the electric frying pan by first placing 2 to 3 tablespoons of oil in the pan and heating the pan to high. Brown the meat in the oil on all sides. Fill the pan up to about half full of water or broth, turn the thermostat down to medium and put the cover on the pan. The meat will be moist and tender in about the same time as cooking it in the oven. You can also add vegetables to the pan if desired.
Cook stews, chilli and soups by combining the ingredients in the pan along with stock or water. Start the cooking process on high and turn to low when the liquid begins to boil. Allow to simmer for at least an hour before serving.
Deep-fry fish, french fries or other foods by filling the pan half full of cooking oil. Set the thermostat to high and use a slotted spoon or strainer spoon to lower foods into the hot oil. Cook until brown and remove with the spoon and allow to drain on paper towels.
Make easy one-dish meals by browning meat cubes in 2 tablespoons of oil. Add vegetables and pasta or rice. Fill the electric frying pan half full of water and cook on medium until the rice or pasta is cooked and the meat and vegetables are tender.
Top Tip
Most newer models on the market have a non-stick interior; older models may be bare aluminium or stainless steel. Non-stick interiors allow you to skip the oil when frying foods. Simply spray the interior with a non-stick spray before cooking. Foods can be kept hot for later by turning the frying pan to low and keeping the lid on.
You'll find a nice variety of affordable electric frying pans on the market, each with their own bell or whistle; Whether it's square like the Salton 3.8 Litre Electric Frying Pan, wide and round like the Pineware 40cm Electric Frying Pan, or a sleek stainless steel one like the Russell Hobbs Oval Electric Frying Pan, there's one to suit your every need. It'll be wise to take size, coating, capacity and warranties into account when picking the perfect pan for you.
EASY COCA COLA CHICKEN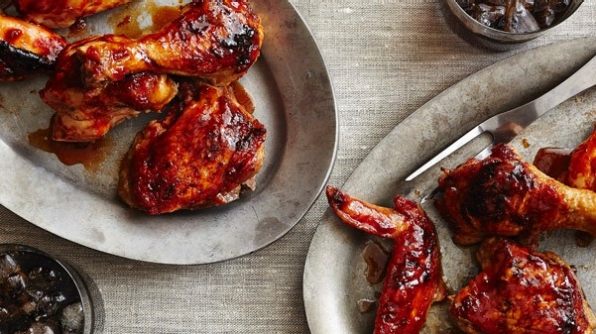 Ingredients:
Servings:
1 chicken braai pack
1 340ml Coca-Cola
1 cup tomato sauce
½ cup chutney of your choice
Salt to taste
Preparation
PREP TIME: 5 Minutes
COOK TIME: 1 Hour
TOTAL TIME: 1 Hour 5 Minutes
1. Carefully put chicken pieces in an electric frying pan. Add salt to taste. Combine CocaCola, tomato sauce and chutney and pour over meat. Cover and cook at 180°c (or medium heat) for 1 hour or until done.
You may be interested in…