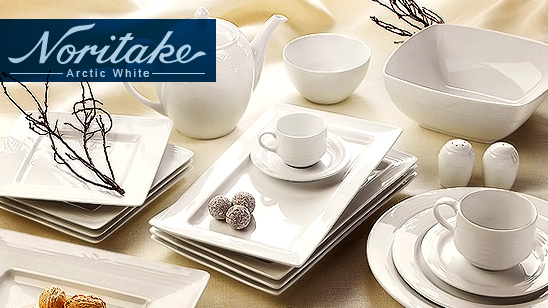 When you buy a Noritake dinner set, you are buying a piece of history. Noritake Arctic White and the many other ranges this brand has created have always been one of our best sellers, popular with brides-to-be and gift-givers alike. Noritake Prices might be surprisingly affordable, but that doesn't mean you aren't getting genuine, top quality china that the ancient Emperors themselves would have been more than glad to eat off! Here's a little history of this brand's rich history and traditions.
What is China?
Essentially, china is a pure and very white form of clay, made from kaolin, feldspar and quartz. Once the pieces are created from this clay, the items are put through a series of firings at extremely high temperatures (in excess of 1200 degrees Celsius). The clay becomes vitrified, meaning it chemically changes into a form of exquisite glass, this gives it the strength and beauty of the china we see in Noritake Dinner sets. Coloured glazes may be added, but china is generally glazed with a transparent layer in order to show off the pure elegant whiteness of the beautiful clay itself.
Where does Noritake Come from?
Noritake has been bringing luxury and quality to fine dinner tables all around the world since 1904. Their uncompromising attention to quality and detail, as well as eye-catching artistry and craftsmanship, have made them an international dinner piece favourite for over a century.
The first Noritake china in the world was made in the company established in the village of Noritake, near Nagoya, Japan. This factory aimed to imitate the western style dinnerware that was in high demand in Europe and America in order to produce it for export. Their early products were hand-painted and beautifully decorated, and as the years passed, they have continued to improve their production methods and refine their artistry.
Today, Noritake dinnerware is acknowledged as an industry leader with suppliers and factories all over the world. Their products are sold in over 100 countries-  in homes, hotels, in airlines and even luxury cruise ships!
The Noritake Arctic White dinnerware range truly is a testament to the proud history of this company. Its strength, fine quality and simplistic beauty make it perfect for anyone's home in the modern day, while at the same time paying homage to its roots in 19th century Japan.
To learn more about the Noritake label and its beautiful ranges, why not visit Binuns Online and take a look at it for yourself! We guarantee you'll be planning your next dinner party sooner than you think.