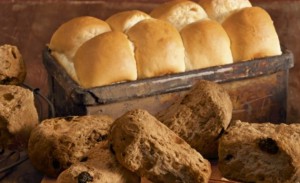 In the cyclical nature of the world, homemade is fashionable again, with traditional essentials like the Zebra Rusk Pan and Cutter becoming a must-have item in the kitchen. But, before you whip out your great grandmother's family favourite rusk recipe, let's take a moment to recap the timeless history of rusks and how they maintain their standing as a firm South African favourite.
Essentially, rusks are double-baked bread made in a rusk baking tray. They start as round balls of dough that are closely packed and baked just as you would bread. Once the initial baking is done, the bread is broken or sliced into pieces using a rusk pan and cutter, then slowly baked again until it is dry. This process makes it really easy to store and keep rusks for a long time, which is exactly why they gained popularity in the 1690s when the Dutch immigrants needed food that they could keep while travelling long distances and eat on the move. Based on this, it's safe to say that rusks kept the Great Trekkers and Boer War Soldiers deliciously well fed and ready for action!
These crunchy treats became so popular that they earned their title as a traditional breakfast and snack for hunters, prospectors and travellers alike. And so the "Great Rusk Revolution" has firmly held it's course, and South African travellers seldom leave home without their rusks as 'padkos' on road trips. Famous South African comedian, Barry Hilton, even suggested that the true test of being a South African, is knowing exactly when to time removing your rusk from your coffee once it's been dunked.
1939 was a particularly significant year for the rusk revolution- That's the year South Africa's beloved "Ouma" was born. Wanting to lift the spirits of the small Eastern Cape town of Molteno during the Great Depression, the church pastor offered a number of the church women two shillings and sixpence each, challenging them to use the money and their abilities to make more money. Little did he know he would change the course of South African snack food forever when Elizabeth Ann 'Nannie' Greyensteyn used the money to buy ingredients for her family rusk recipe, and lo and behold her rusks sold out in minutes at the local church bazaar! Ouma Greyvensteyn was in business!
Her rusk baking tray never rested, as her business grew with the aid of her son taking the rusks to neighbouring towns and returning with huge orders. Within almost no time at all, the family had turned their barn into South Africa's first rusk factory. Sadly, the barn burned down in 1952. Luckily, Mrs Greyvensteyn had already taken out a loan for R3,000 and built a larger rusk factory on her property. The Ouma rusk factory still manufactures their South African favourites in the same small town, and is proudly the largest employer in Molteno to date.
It's an inspiring proudly South African story, and if THIS doesn't inspire you to grab the family recipe book, purchase a quality rusk pan and cutter create your own homemade rusk legacy, then nothing will.
Image: www.iafrica.com