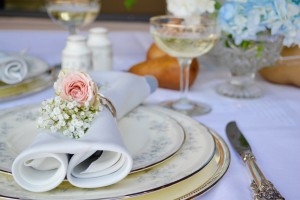 One of our timeless, classic dinnerware ranges, Noritake Arctic range, has proven to be incredibly popular with our customers. New brides-to-be almost always add a Noritake dinner set to their wedding registries, and we often see these sophisticated sets given as gifts for housewarmings.
A good quality china set is a lifelong heirloom and will continue to serve well for generations, if looked after properly. It does tend to cost a little more because it uses only the best ingredients and is fired to the highest temperatures during its meticulous manufacturing process, making it strong and long-lasting.
How to look after your Noritake dinner set
Nowadays, most people use a dishwasher to clean their china, and we are often asked for advice on how to wash Noritake dinner sets in order to keep them looking their elegant best.
Here are our top tips for cleaning china with a dishwasher:
1 If you have a dishwasher with a special setting for crystal and fine china, it is advisable to use it according to the manufacturer's instructions. Some people report a gradual wearing-away of delicate patterns or of the metallic rim of some china sets that comes with using a powder or table detergent in the dishwasher.
For this reason, many manufacturers recommend only using a liquid-based detergent, which is free of powdery particles.
2 One of the most important things you can do to care for your Noritake dinner set is to not overload your dishwasher. If dishes are touching each other during the wash cycle, it is more than likely that the jets of water doing the actual washing will push them around and rub or knock them against each other, resulting in chipping or scratches over time.
3 After the drying cycle is complete, it is always a good idea to allow the dishes to cool down to room temperature before handling them. Heat temporarily softens the metallic edges that feature on many dinner sets (including some Noritake dinner sets).
More care advice
Ceramics can be sensitive to heat and crack due to extreme changes in temperature, or thermal shock. For this reason, you should not use ceramic dinnerware in a hot oven (unless "oven safe" is specifically mentioned by the manufacturer).
You should also not expose ceramics to an open flame or stovetop element. Try to avoid exposing dishes to extreme changes of temperature and you will be helping to protect your set from sudden cracks and other weaknesses.
Noritake dinnerware truly is a modern classic, with its beautiful understated designs and delicate textures. With the right cleaning care and careful handling, it really can become a modern heirloom and remain looking in prime condition, to be used for or by many generations to come.
Main image credit: funyumandfrills.com