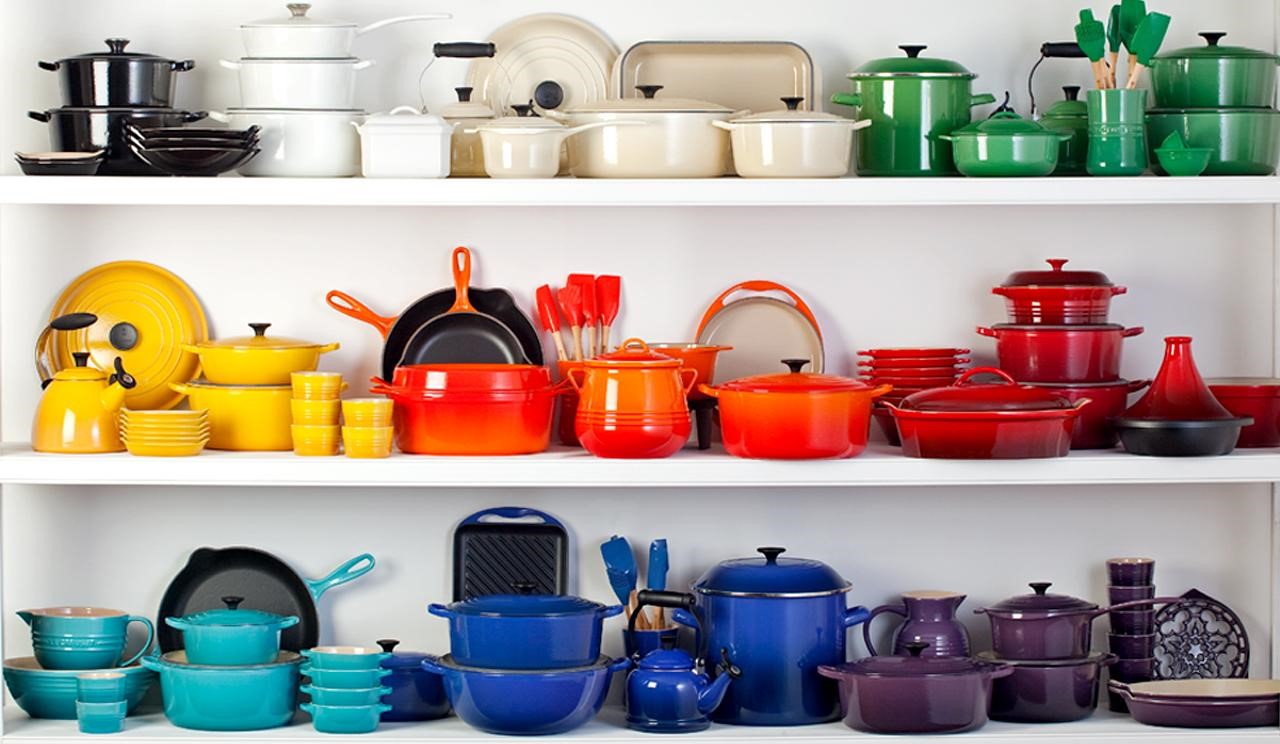 Brightly coloured Le Creuset pots have been an omnipresent feature at every bridal shower, engagement party and swanky wedding for decades. But what makes Le Creuset cookware so special? Is it really worth the hefty price tag? To understand how this fabulous range became such a runaway hit and a favourite with brides and cooks all over the world, let's cover a little bit of the company's history first.
Le Creuset bakeware and cookware has its origins in 1925 – the year that Armand Desaegher and Octave Aubecq met at the Brussels Fare and, after a chat, decided to open up a foundry where Le Creuset would be produced. Situated in Fresnoye-Le-Grande, France, the foundry was right on the transport route used for coke, sand and iron – all essential to the production of Le Creuset cookware. Every step of the manufacturing process still takes place at the same factory to this day, including the smelting of the cast iron – in fact, "Le Creuset" can be translated as meaning "the crucible", referring to the large metal cauldron where metals are melted and mixed for casting.
So why is Le Creuset Cookware such a big deal?
Those who have never cooked with this iconic brand's products may not realise just how different they are to regular pots and pans. Here are just a few reasons Le Creuset bakeware and cookware is a cut above the rest:
Le Creuset is durable! It is common to find people using pots and pans today that were purchased by mothers and grandmothers 50 or 60 years in the past.
The thick cast iron bases ensure that Le Creuset pots and pans heat up evenly, without hot-spots that cause uneven cooking and scorching. Le Creuset has such good heat retention properties that foods can continue to cook for up to 30 minutes after the stove has been switched off!
The enamel coating is extremely durable and prevents foods from sticking.
It can be used with any stove or oven, including ceramic, gas, electric or induction.
It is exquisitely beautiful, and comes in an amazing variety of colours. With so many products available, Le Creuset has bridged the gap between practical cookware and beautiful collector's pieces.

Becoming a Le Creuset collector
Understandably, not many people can afford to kit their kitchens out with the full range of Le Creuset cookware all at once, but we believe that collecting is half the fun anyway! Many reputable dealers, such as Binuns, often have sales or promotions on selected ranges, so keep your eyes peeled and you could save thousands while building your collection.
Another great idea is to have others buy it for you! If you have a housewarming, engagement party or wedding coming up, it's easy to set up a Binuns gift registry and have your friends and family contribute to your collection, too.
So don't get caught up on the price! Owning Le Creuset is owning a piece of history, and your pots and pans may well end up in the homes of your grandchildren one day!
Image Credits: cobblehilldigital.com;  wertheimvillage.com